Hooooo boy it has been a whole lifetime. WordPress has changed its layout and everything and it is everything I loved about Notion tbh! it has been awhile since I reviewed a product on here- everything is on Instagram these days- but sometimes you really need a blog post to get all your thoughts out there.
I was contacted by a representative Good Molecules and they asked if I would like to try out their product range. If you haven't heard the buzz around the brand yet, Good Molecules is Beautylish's newest brand addition, and it prides itself as an affordable alternative to pricey skincare products, backed by research and just as effective without digging a deep hole in your wallet.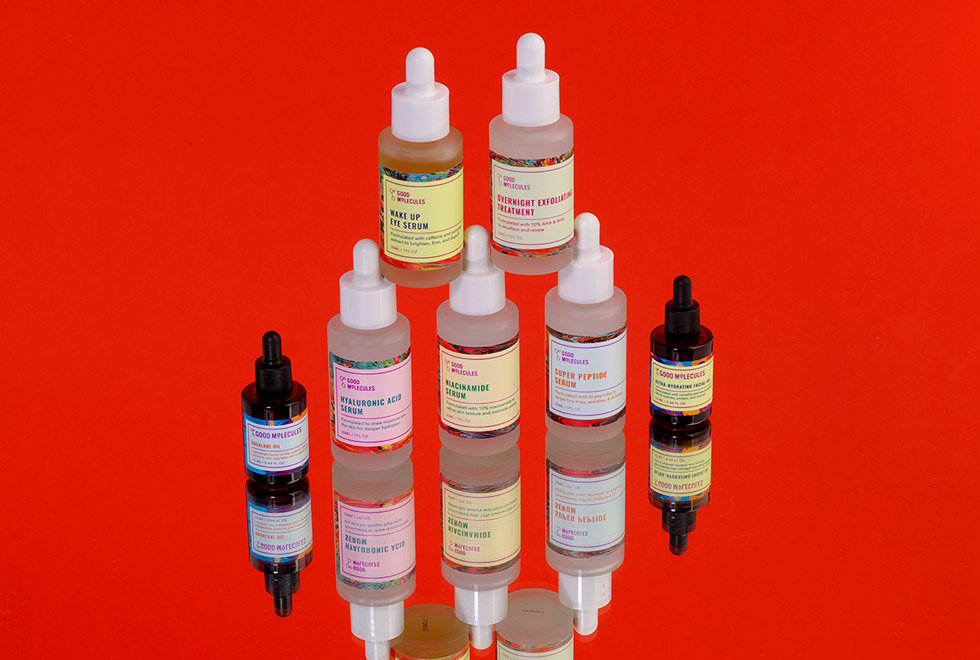 " By working directly with top labs, Good Molecules offers products that target skin issues—like acne, redness, and hyperpigmentation—without the traditional retail markup. See a difference in your skin, starting at just $6. "
I told them about some of my skin concerns, and they very quickly put together a lovely package for me that arrived in a few days flat all the way from LA- and with a lovely note inside too. Colour me impressed.
Without wanting to draw too many comparisons, the brand reminds me of The Ordinary: with the simple packaging and science-based skincare, and affordable price besides. This comparison has no doubt been mentioned in many reviews besides mine but it's simply so rare to have good, affordable products that are exactly just that. I moved back from the UK to Singapore last year and I'm happy to have a brand like The Ordinary that ships to Singapore that I can purchase!
Most of these products are made in Korea as well, and I've found them very suitable for Singapore's humid and hot weather, and works a treat on Asian skin. Is there a distinction really? I've found that many international brands don't consider different climates and skin types when formulating their products, and as someone who loves to do lots of research before buying beauty products, I have occasionally been disappointed because a product that was getting a lot of rave reviews from many sources (forums, beauty gurus, unsponsored testimonials etc.) turned out to be lacklustre or unsuitable for my skin.
That's not to say that the products themselves are bad and don't work, but I failed to take into account the fact that these people were living in different areas with different climates, had different skin types, and simply assuming that it would work for troubled/ oily skin would be too superficial. That's why I feel that it's so important to have representation (in all ways! – age, skin type, race, etc.) in the beauty industry for better self confidence and more tailored recommendations! /rant over
Before I delve right into each individual product, these are some of my major LOVES so far (I've tested these for almost two months now, to get a feel of how they work with my skin).
Price– each product is so affordable- none of the usual mark-ups!
Clear description and instructions for use. Surprisingly, you don't get enough of this. To skincare newbies and for people not used to incorporating many products in their skincare routine, each product is clearly described and explained on the website AND the product itself. Forget which one should only be used a few times a week? Which one goes before the moisturiser? It's there on the bottle. Major plus points.

Packaging

. Maybe this overlaps with the previous point a little, but I love the heavy bottles and dropper applicators. I tend to be so clumsy (ask any of my friends) and I have dropped these bottles a couple of times. Oops. No spillage, cracks, or general destruction. The heavy bottles make it feel so luxurious too.
Other great things:
Special consideration for all skin types and living choices

– each product is listed as being vegan-friendly, only natural fragrances are used to avoid skin irritation for people who are sensitive to fragrances, and even gluten sensitive ?? I've seen the cruelty free label and 'vegan-friendly' labels, but this is such a great level of care.
I was sent the Niacinamide Brightening Toner, Super Peptide Serum, Overnight Exfoliating Treatment, and the Squalane Oil.
My favourite by a long shot was definitely the Super Peptide Serum– I honestly didn't know what I was missing out on until now. Why have I not known about peptides sooner?? My skin feels so so smooth and amazing after applying it and I wake up with really soft, plump, and hydrated skin. Maybe the Squalane Oil helps a little too, but… wow. I honestly love this. I sometimes rotate the other products with the existing ones I already have in my skincare routine, but I use this serum along with the Niacinamide Brightening Toner daily.
Apparently peptides are supposed to smooth the skin and help with dullness, fine lines, and wrinkles, as well as help with collagen and elastin production so I'm hoping for improved results with consistent use. Will report back again in the future 🙂 It's never too early to start with anti-aging products in your skincare routine (even in your early twenties!)- prevention is always better than cure. I've even used it around my eye area and experienced no irritation.
The natural scent of the serum also reminds me a little of a kind of cereal I used to eat as a child. I can't place my finger on what brand it was- but I love the smell. Maybe it's such a weird thing to mention, but I really like it. The bergamot fruit oil is not too cloying like a lot of moisturisers that have sickly sweet scents.
The Niacinamide Brightening Toner and Squalane Oil are tied for second and work beautifully together. I experienced some stinging sensation initially upon using the toner for the first time, so I monitored the results very carefully and checked for irritation. I prefer to apply directly to palms instead of applying it to a cotton pad, as this toner is less of a liquid and more of a serum/gel texture in my opinion!
The toner is supposed to promote bright, even skin and less visible pores- I love that it is gentle on the skin and alcohol free! A lot of the cheaper toners are heavy on alcohol to allow for a 'refreshing' sensation or a better texture upon application- but alcohol is drying and very bad for your skin. There is none of the dryness or tightness you get with some toners- so I think this would be an excellent starter to people who want to introduce more steps in your skincare routine but keep it down to basics.
Side note: I am currently phasing out all the products I use with alcohol and irritants- hoping Good Molecules develops an amazing sunscreen soon, because I am stumped- everything is either too pricey or not great for skin, or doesn't work with makeup.
But I digress. The toner has definitely helped with a lot of the visible pores I have, especially on my nose and cheeks. It hasn't broken me out, but I feel like my skin is slightly sensitive so I don't want to overdo it. I tried rotating it with another lighter, water-based toner because of this concern, but ironically that toner broke me out because it was so heavily scented (lol).
I still like it, but I'm hoping they will introduce another toner for sensitive skin- my skin feels very tingly and a little warm upon application especially if I'm having a particularly bad breakout, so I don't want to risk aggravating any acne or open wounds.
The Squalene Oil sinks in beautifully into skin and isn't too greasy- a little goes a long way! I use a couple of drops for my whole face, neck, and massage the remainder into the back of my hands as well. The oil smells a little of burnt tyres and isn't my favourite thing in the world to smell, but it doesn't linger too long or bother me overmuch.
I have also recently received Good Molecules' latest release, the Pure Cold-Pressed Rosehip Seed Oil. I'm looking forward to seeing how it matches up with the Squalene oil- while I was still working at Vom Fass, I used to purchase their rosehip seed oil to help with acne scarring and dull skin. It was one of the only things that helped especially during those teenage years of bad acne and eczema. Rosehip seed oil is really pricey though, and I stopped using it when I could no longer have any employee discounts (lol). We'll see how my skin fares with this- I'll do another post in the future!
Side note: maybe this is not very well known, but if you were to use it during the day, make sure you use a good sunblock (SPF 50 and above!). Rosehip seed oil helps fade scars, but applying it and exposing yourself to sunlight for an extended period without any protection can actually reverse these benefits.
The Overnight Exfoliating Treatment was a teeeensy bit underwhelming, especially after I had seen such visible effects from the other products. Perhaps it was working together with the other products to make sure that all the goodness actually reached my skin by removing the dead skin cells? I was quite worried that it would be too much for my sensitive skin as I got a strong tingling sensation, but it did not break me out. My skin felt a little dry upon the first initial applications, so now I do not use it overnight- I leave it on after my shower and wash it off after, and then reapply my various serums and moisturisers.
I can't say for sure if it has actually evened out my complexion, but I much prefer this to physical exfoliants that can damage the skin with grit and coarse scrubbing. I will continue to use it consistently with the other products, since they have all served me well so far. I use this treatment about 2-3 times a week in rotation with another BHA product.
BHAs are great for combination to oily skin like mine- they work to combat acne and sun damage, and can even calm sensitive skin at lower concentrations of below 5%. BHAs can penetrate deeper into your skin compared to AHAs, to dry out excess oils and dead skin cells to unclog your pores.
I would say this product is quite suitable for all skin types, even sensitive skin, but you should do a spot test if you are unsure. With AHAs, you'll want to take care if you have extremely dry and sensitive skin. Avoid using too much and leaving it on for too long, and don't use AHAs daily until your skin has become accustomed to it to avoid irritation.
Overall, I am very happy with the products I have tested out so far and some have actually made a noticeable change to the quality of my complexion. While my hormonal acne has not entirely diminished, I have definitely seen a very big difference in my pore size and I feel that my skin is definitely more toned and firm. I would highly recommend the Super Peptide Serum– I think peptides are not often included in many skincare routines, and I think this is a good and affordable option to start!
Many thanks again to Good Molecules for reaching out and letting me try out all these wonderful products- I'm officially a fan! I am already eyeing some of their other products like the Vitamin C Booster Powder and the Instant Cleansing Balm for purchase next.