I was recently gifted this duo by my best friend, which she bought during her solo trip to South Korea. These can be bought as a set or on their own, and I've included a couple of links to sites where you can acquire them for yourself in this post.
These two products claim to help to improve the elasticity, radiance, and the moisture of your skin with egg white and yolk extracts-I used to use egg whites on my nose and cheek area to tighten/firm, and these products ought to work the same way. I'll see if they really do hold up to their claims!
The Egg Mousse Pack: a whipped foam facial mask made from egg white and egg yolk extracts- smoothens and brightens skin.
Description:
This whipped, meringue-like mousse facial mask enriched with egg white and egg yolk extracts instantly transforms rough, dull skin into a smooth, radiant complexion in as little as five minutes. Egg white extract purifies and brightens, while egg yolk extract leaves skin hydrated and silky smooth. This unique, frothy facial mask deeply moisturizes and enhances the use of other skin care products for beautifully luminous skin. It contains no Sulfates or Phthalates. (Sephora.com)
My experience:
Out of the two, I was least impressed with this one. It left my face feeling soft, but I wouldn't say it was any more hydrated or radiant than it was previously. I wasn't really a fan of the smell, either. It smelt like grapes for some reason and I felt a mild tingling sensation.
I tried two ways of applying, since I looked up reviews after my first application and apparently it is recommended that you continue to massage the mask in instead of applying and leaving it on (like a scrub). I didn't notice any difference, honestly.
I will probably continue to use it, but it didn't wow me in any way. I did like how the mask expelled in a nice blob of foam (you only need to press the nozzle a little, it is very sensitive) and it was the right amount for my face. I love Lush's face masks, but I'm not a fan of the constant dipping- especially with long nails, the mask gets trapped under your nails and it's honestly quite unhygienic. No fuss with this one 🙂
The Egg Mousse Soap (facial cleanser): A whipped egg white mousse cleanser infused with egg yolk extract that gently hydrates, purifies, and replenishes your skin.
Description: 
This creamy, meringue-like cleanser combines milk proteins, amino acids, and egg extracts to thoroughly cleanse your skin. Tiny particles are able to go deep into the skin, not only to dissolve oil and dead skin cells, but also to nourish for long-lasting smoothness and hydration. Egg white extract purifies, tightens, and brightens while egg yolk extract moisturizes. Your skin is left thoroughly clean, hydrated, and glowing. (Sephora.com)
My experience:
I liked this a lot more than the mask pack. Like the mask, the nozzle dispenses dense, white foam. I liked the scent a lot more, but you should be warned that like most of the products Too Cool for School has, their fragrance is quite strong. If you are someone who dislikes scents in anything skincare-related, I would advise against getting it.
The dense foam meant that I could easily reach awkward crevices and such, which I usually have to use a brush or foaming net to do. The nozzle dispenses a tad bit too much foam in one pump if you're not careful, so use a light hand.
I rub in and massage, and my skin feels soft and supple afterwards. It is not a heavy duty cleanser, and I use it after removing all my makeup (certainly does not budge my waterproof mascara much).
I like that my skin does not feel uncomfortably tight like some cleansers leave me feeling, but I would not say you can entirely do without moisturiser altogether. Use your regular toner/ serum/ moisturiser after cleansing.
I am currently using the botanical toners from Garnier's SkinActives range, which I will introduce in my August favourites at some point. I follow up with The Body Shop's Vitamin E moisture cream (review here).
Other similar products:
I have also used Tonymoly's egg pore range, of which I still use the Egg Pore Silky Smooth Balm (review here). I wasn't that impressed with the Tightening and Cooling pack or the Blackhead Steam Balm from the same range- but then again, I do not have very visible blackheads. The steam balm and smooth balm smells lovely, which is a huge plus for me since I have to leave it on my face for a while.
If you live in Singapore, you can buy the whole range on Qoo10 here ($5.99/$8.99 SGD).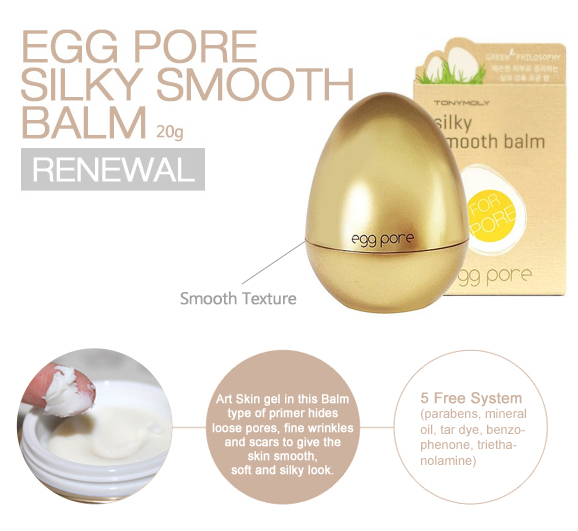 I have also tried the Skinfood Egg White Pore Foam (150ml), which I wouldn't say particularly impressed me. It was a cleanser that did its job, but that was pretty much it. It was a little drying, but probably more deep-cleansing than Too Cool For School.
I hope this review was helpful for those of you who are thinking about incorporating some Korean skincare options into your routine, or are curious about the benefits of eggs in skincare 🙂